Eugen Fulterer grew up in a traditional restaurant in Rankweil, Vorarlberg. From the age of 19 he ran the family business until it was closed and sold in 2014. Since 2006 he has lived between Vienna and Vorarlberg and has been involved in cultural associations and initiatives for many years. His studies of environmental and bioresource management first led him to the University of Natural Resources and Applied Life Sciences before he moved on to study geography as well as theatre, film and media studies at the University of Vienna, where he graduated in 2015. He has been involved in various exhibitions as an artist and curator and has also worked in the fields of literature, performance, film and theatre as well as being a concert promoter. Since 2015, his work in independent cultural work has become more intensely focused. He currently directs the Walserherbst Festival together with Dietmar Nigsch and regularly pulls the strings at the Wanderkiosk (travelling kiosk), where he performs in the role of the artistic figure of the "Budiker". In his parents' restaurant he learned how to be a host, how to cook and he developed a love for organising events. The inn was a meeting place for fire brigades, the church choir or the nativity scene construction association as well as for regional bands and international artists. The backyard hosted one of the craziest live-acts in the universe. Eugen Fulterer is 40 years old.
Where and how did you grow up?
I grew up as one of five sons in the Gasthof Kreuz in Rankweil, above the guest rooms of the inn. My childhood was spent in a public environment. When I would look for my parents, I would find them somewhere moving between tables, at the beer tap, in the kitchen, the cold storage rooms or the inn garden. I spent most of my childhood hanging out with my neighbour and friend who was the son of a butcher. From our homes it was only a stone's throw to the forest and the sports field.
Could you describe your professional background?
A very middle-class start in life, just like it was at our inn. As a child in the football club and with the altar boys, attending the tourism school was somehow already predetermined for me. My father died when I was 19 and I took over his role at the inn, although I never thought it would take 15 years to move on from it. We made the business solvent, threw wild parties and transformed the image of the traditional village inn to some degree. As far as the management of the business was concerned, I was able to share duties with one of my brothers and I began to put out my feelers to Vienna. There I got to know the open space scene with the Kulturverein Einbaumöbel, right after its foundation, and I visited a few universities. Inevitably, I was drawn into a maelstrom of excessive art production and consumption. I organised concerts and exhibitions, began writing and submitting my own material, got involved in theatre and participated in group exhibitions. In addition to Einbaumöbel, which I engaged myself in for a good ten years, I was also involved in other initiatives, and in 2009 I helped build the cultural centre "Werk", which was then still based in Ottakring. Sometimes five hundred people would stand waiting in front of the entrance and could not get in anymore. That didn't last long however. They then moved to Spittelau and for the last two years FM4 has voted them Club of the Year. They were good and wild years, always interrupted by the monthly return to the family business in Vorarlberg, which I increasingly felt to be like a weight on me. I decided to return to the business in 2011, with the idea of either restructuring it completely together with my brothers, or getting rid of it altogether. When I "returned home", I also implemented the monthly literature event "V-Lesung", an urban souvenir from Einbaumöbel, so to speak, which celebrated its hundredth edition a few months ago. After looking deeply into my family heritage in the shape of the inn, I decided that it was time for me to move on from this heritage. My brothers and I closed the business and sold it completely in 2014. Amen to that. It felt like a rebirth for me, and I got involved thereafter in a long sabbatical with projects in Tanzania and Nepal. At the end of it I decided to work towards getting a foothold in cultural work.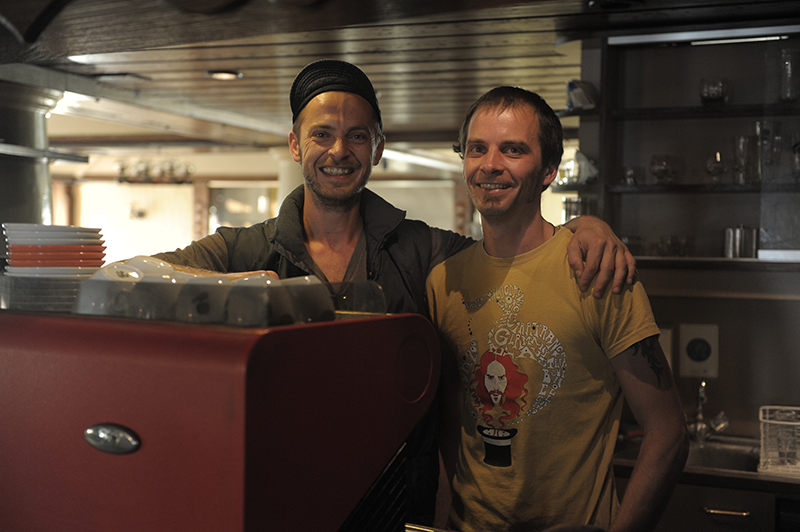 Were there certain events or stations that were formative for your career?
I certainly learned a lot from growing up in an inn and even more from rethinking and renovating a business with fifteen employees at a young age. I had a wide circle of friends around me growing up around the inn over many years. When I was eight years old my brother made me a mixtape. He shaped my taste in music and later on my political attitude, at a time when I had no idea what politics was all about. The many visits I made to festivals abroad were certainly also formative, and some seeds were sown through those experiences that are still sprouting in my work today. Taking the chance to do the balancing act in Vienna (while still running the inn with my brother) and immersing myself in the urban world and everyday university life brought a lot of inspiration, as well as new friends and networks. The final decision to turn my back on my family heritage in my mid-30s was also a very important point in my life.
Has your environment supported you in your career?
The fabulous Olli Schulz once wrote a great song called "Rückspiegel" about this topic. An environment is usually generated by your activities and movements, and people are inevitably drawn into it and are definitely dependent upon or are strongly influenced by your activities. My good friends have always supported me, unselfishly, and above all helped me mentally through many challenges.

What are your current activities?
For a few years now, I have been managing Walserherbst in the Great Walser Valley together with Dietmar Nigsch. The Walserherbst is a cultural festival, linking traditional with contemporary art and culture in the Grosses Walsertal Biosphere Park every second year. For three late summer weeks, the festival programme turns the entire valley into a stage and spans various genres: music and literature, theatre and performance, European auteur cinema and photography and culinary arts and crafts. Its self-image is characterised by its openness to new and outrageous things, by the joy of encountering foreign people and cultures, and sometimes also by its delight in breaking conventions which may be stuck in time and place.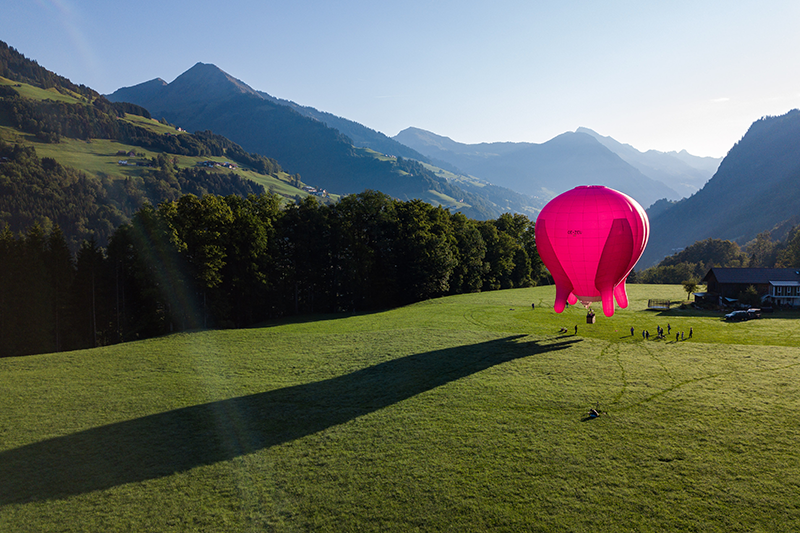 The premiere of the Wanderkiosk in 2016 led me to the Walserherbst. I hosted the kiosk in the role of the Budiker, stayed in a village square during the festival and tried to invoke feelings of both contemplation and restlessness. Since then, I have been organising temporary performances in public places together with the Wanderkiosk collective, and if time permits, I assume the role of the Budiker. At its locations, the Wanderkiosk functions as an interface between everyday culture, community, architecture and art. The Budiker is always transformed into a kind of personification of purpose, with the focus on mediation at a low threshold, always coordinated with the set and setting. Last year I went on my first tour of Austria with this performance, and it would be nice if more could follow as I love the role.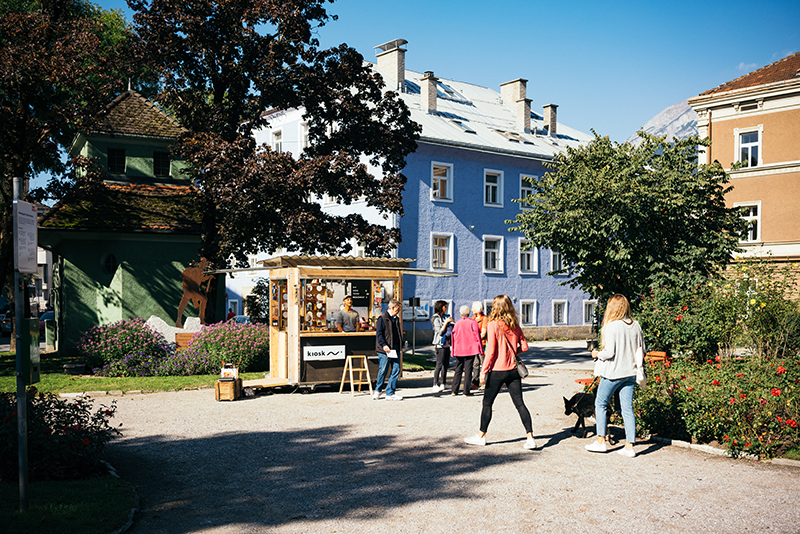 Until recently I organized the monthly literature event, "V-Lesung". Issue 100 was marked with a 100-hour literary celebration – a five-day, four-night long event of readings, theatre, concerts, performances, meditations and culinary and funeral services. I used this event as an opportunity to suspend V-Lesung for the time being and to enter a creative phase, but the format will certainly "pop up" again, of that I am sure. In addition to all this I also do organisational activities in the event and a catering sector, be it as a cook, writer or working in other bread jobs as a data slave.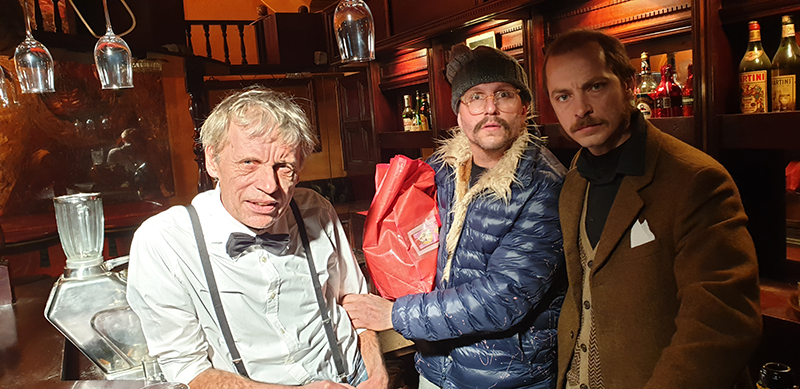 Does what you are currently doing fulfil you?
My field of activity is very diverse, the boundaries between private and professional life are constantly blurring, so I have long forgotten what boredom feels like. There are many activities in which I am completely absorbed. I have always loved variety and I always wanted to avoid monotony. Every now and then I wonder what it would be like to have a "normal" job, with the feeling of a time clock and pay slip and legal holiday entitlement. To take off the professional skin at the end of the working day and to be able to enjoy all the private pleasures. And then I come back to the point where I think what a luxury it is when you can no longer distinguish between the private and the professional and you are constantly working on the materialisation of your ideas.
Do you think that you yourself have an influence on whether your activities are fulfilling?
For me, fulfilment often lies in balance, and even small experiences of success fulfil me. For a very long time I had the feeling that I could not cope with the workload. Always a big challenge as a freelancer is to be able to leave your work behind and not constantly go home at the end of the day with the feeling of not being finished.
First and foremost it should be about the fact that what you do brings you joy. In the current time of lockdown and this pandemic, one could easily lose the joy of planning cultural events. I often interrupt this feeling of "working into the void" by keeping myself busy in the garden when I am in Vorarlberg. If I plant a potato today, I'm pretty sure I'll have a sense of achievement in autumn.
The important thing is that you like what you do and you see a sense in it. When your own talents blossom in the course of this activity, then you have almost won already.
What or who inspires you in everyday life?
My life has been taking place between Vienna and Vorarlberg for a good 15 years now. I love the contrast between city and country, the poles always complement each other. In my mind's eye I often see the image of the "travelling salesman" as it was hundreds of years ago. With every departure I take something new with me for the "other side". My life partner is also a great source of inspiration for me. She always manages to "take me with her" and is a great teacher for me in remaining spontaneous and open, intuitively generating beautiful moments and appreciating each day as if it were the last.
I can rush from one inspiring moment or person to the next and not notice any of it. Inspiration is mainly in everyday life, you just have to see it. It is often the little things. What good is it if I have my head in the clouds all the time, if I'm working on good projects, if I can't get away from them mentally, if I'm not able or willing to enjoy the "now"? It can sometimes happen that I spend months working on something and when the big day arrives, I don't find the time or the moment to enjoy it, because my mind is already on the next project. Sometimes I live with my mind so firmly projecting into the future that I forget to appreciate the present moment. I have to constantly work on myself.
What or who gives you strength and energy in everyday life?
What nourishes me can be so different. I like doing sports with friends, and I also find visits to pubs very relaxing. Sometimes I need deafening noise with drums and guitars, then again, the theatre or a visit to a museum. I need exercise in nature. Sometimes I need to be up a mountain and then at another time it can be just a heart-warming smile from my partner that energises me. Saunas are something I can get energy from incredibly quickly and effectively – "turbo wellness" – that always works. In autumn, it is the hours of hunting for mushrooms that make me lose myself completely. I draw a lot of strength and energy from just these inspiring moments and they can be of a very diverse nature for me. As so often, it's the balance that counts.
There are "magic moments" when everything seems to fit. Moments that fulfil, inspire and give strength. Moments that confirm that the effort is worthwhile and that what you do is meaningful and valuable. Have you already experienced such moments in relation to your own activities?
Such moments are often only momentary insights, like flashes of lightning that seem to make my stomach tingle. Maybe they are images or moods that I have carried in my subconscious for a long time and appear for a short time in the present moment. I would say that the magical moments I have experienced always have something to do with my own history. The big questions like: "Where do I come from?" and "Where do I want to go?" and all that. Those who are not aware of their dreams and what lies in their imagination will also find it very difficult to recognise them if they suddenly appear for a short moment.
Do you actively do something for it, so that such "magic" moments can happen?
I only try to devote myself to causes, assignments, people and things where I feel drawn towards the situation in itself and the least possible resistance as far as the implementation is concerned. If things stay in flux, then it's fun and interesting to work on them, I can be absorbed in the moment, my thinking becomes calm and at some point a little magic may come into play. The perfect fusion of the here and the now. Those who only look forward or backward often overlook the most magical things around them.
Are there moments when you doubt what you are doing?
I always try to start with myself and take a look at the overall situation. Doubts often arise when I lose the thread. This thread is often my subjective thought construct and doubts can cause the thread to fray. If we regard thinking as a tool, we can often use this tool against ourselves. We are not our thoughts, we often forget that. When it comes to this, I usually lack balance. Be it sport and exercise, socialising, the right nutrition or enjoyment in the most diverse forms – at certain points in time you have to put the brakes on and take control again, otherwise you can let the situation take control of you.
In retrospect, can you find something positive in difficult moments?
Apart from all the beautiful things, I was especially influenced by difficult moments and challenging situations. In these moments I often have the subjective feeling that I'm being thrown back but in reality it is usually the opposite that is true. Looking back, it was these difficult, these "slowed down" moments that often manoeuvred me quite powerfully into the fast lane, even if I had to go through so-called "hell" first. I recently read about the term "failing upwards", which I liked very much. Where difficult moments lead you is usually your own decision. The art is not to let the difficult moments affect you forever, but to stay active and move forwards. Difficult moments require a high degree of activity to overcome, and to let yourself be driven passively through difficult moments is not the most fruitful way to emerge from them stronger that before. It is especially in difficult moments and through the way we deal with them, that we learn a lot about ourselves and we develop our sense of consciousness. I would not be who I am today without these difficult moments, and that is a good thing.
Is there anything you would do differently in retrospect?
Well, then we are already back to the doubts again. I try not to let these thoughts hold me back for too long any more and I try to act faster and more proactively than I did before. Of course, this requires a certain amount of trust and connection to your own gut feeling and your intuition.
Do you want to contribute to society with your activities?
In the past, social interactions and happenings, people coming together for pure enjoyment was one of my main concerns. At the end of the nineties, we already organized festivals lasting several days with thousands of visitors in Reichenfeld in Feldkirch. For a very long time, music and the cultivation of these social interactions were the focus of my cultural activities. With time, I added the aspect that I want to enable artists to live their passions, to go on tour and have a good time. Many concerts in Vienna and Vorarlberg have come together in this way. In the course of time, this intention has increasingly shifted towards political and socially relevant themes. Not that deafening rock music and a state of group trance doesn't also fulfil healing purposes for society, I still like to organize and visit such events from time to time and find magic in it as well. Nowadays, quite simply, I am happy if I can contribute through my activities to a world that is more educated, more reflective, more friendly, more networked and more resistant, and in which, last but not least, fun is always at the forefront.
Is the recognition of other people or the public important to you?
Recognition has many faces. Public recognition can be very flattering and stimulating for my activities, and can also expand fields. I think it's great when interesting projects I implement get reported on. I often deal with things that are socially relevant, so it's naturally pleasing when they reach out to society at large. The press is of course an issue – if you have media coverage, you have easier access to financial resources. But for me personally that is not important and I don't draw energy from it. I think it's valuable when I get personal feedback on what I do sometimes, or when things I have done have an effect and that effect doesn't just go away. But I do it anyway, because I think it should be done, and I am not looking for recognition. I like it to provide others with a good time through my being and through my work. It fulfils me if I can contribute to helping people have a good time. That has value for me and I think that a good time can also include content.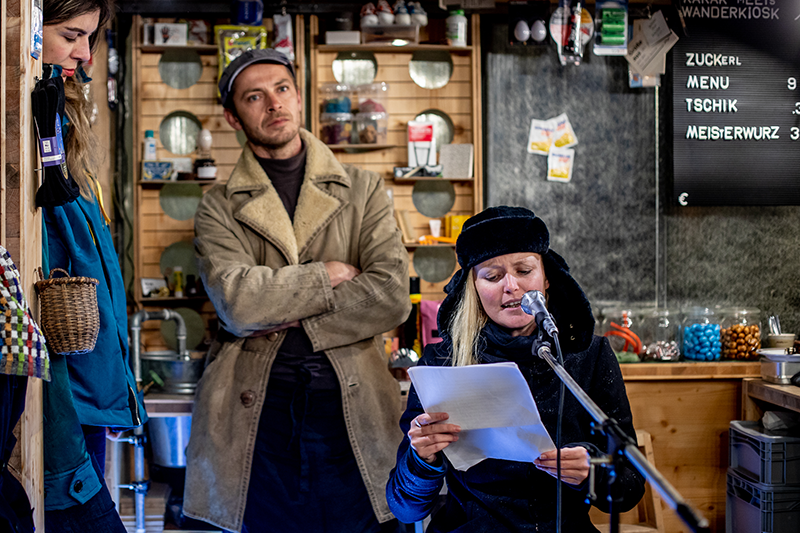 Interview
Laura Hilti, June 2020

Illustrations
Stefani Andersen

Credits
Portrait/ Wanderkiosk Innsbruck: Alena Klinger
A morning after: Marc Lins
Handover of keys: Melanie Büchel
Freiraum: Ralf Woltron
Balloon baptism: Hanno Mackowitz
Wanderkiosk Blons: Walserherbst
V-Reading #94: Daniel Ongaretto-Furxer
The really very last guests: Alexander Ess
Film shooting in Nepal: Santosh Lamsal
Final concert: Eugen Fulterer
Beaking bread for 72 hours: Daniel Mathis
Wanderkiosk, Vienna 2019: Kollektiv Fischka / Stefanie Freynschlag
This interview is part of the project "Magic Moments" by Kunstverein Schichtwechsel, in which people are interviewed about their careers, activities and their magical as well as difficult moments.
Curated by Stefani Andersen and Laura Hilti, Kunstverein Schichtwechsel.
Supported by Kulturstiftung Liechtenstein and Stiftung Fürstl. Kommerzienrat Guido Feger.
>>> All interviews