Luigi Olivadoti works as a freelance illustrator for magazines, newspapers and children's books and has also designed stamps for Swiss and Liechtenstein post offices. He is also active as an artist, through painting, drawing and engaging in art projects for buildings. For his illustrative work in recent years, he was nominated in 2020 for the Swiss Design Award of the Federal Office of Culture in Switzerland. Luigi Olivadoti grew up in Liechtenstein and his family is from Calabria, Italy. He has been living in Zurich for six years and works at the Strapazin studio together with his wife, Anete Melece, and 15 other creative collaborators from the fields of illustration, animation, comics and literature. He is 37 years old and has a two-year-old daughter.
Where and how did you grow up?
I grew up together with my parents, grandparents, uncles and aunts in Mauren, in an old house with a big garden, with chickens, pigs and an old donkey roaming around. Unfortunately the house is gone, and today there is an ugly apartment building in its place. There was always a lot going on at our house, relatives and friends were always visiting. It was a beautiful time.
Could you describe your professional background?
I have always loved to draw and I really wanted to learn something related to drawing, but unfortunately I couldn't decide how to go about it for a long time – or rather I didn't know what was possible. I didn't pass the entrance exam for the artistic "Vorkurs", so initially I studied art at a private school, the F+F School of Art and Design, in Zurich. From there I moved on to study fashion design for two years at a small school in Zurich (which is now also part of the F+F). I graduated there, but somehow I could never get a foothold in the fashion world. I preferred drawing and the fashion world didn't interest me that much any more. In time I also started to feel a bit useless, as all my school friends had already finished their education and were engaged in their careers beyond their studies. Therefore, I took the decision to learn something "safe". I studied graphic design at the F+F and graduated with honours after three years. I had really wanted to study illustration at the Lucerne University of Applied Sciences and Arts, but had failed the entrance exam the first time. So I tried again after three years, just to know if I could make it and this time I did pass… and then studied again for three years! In retrospect, it sounds like a huge detour, but somehow it was all worthwhile, even if I probably overstretched my parents' patience.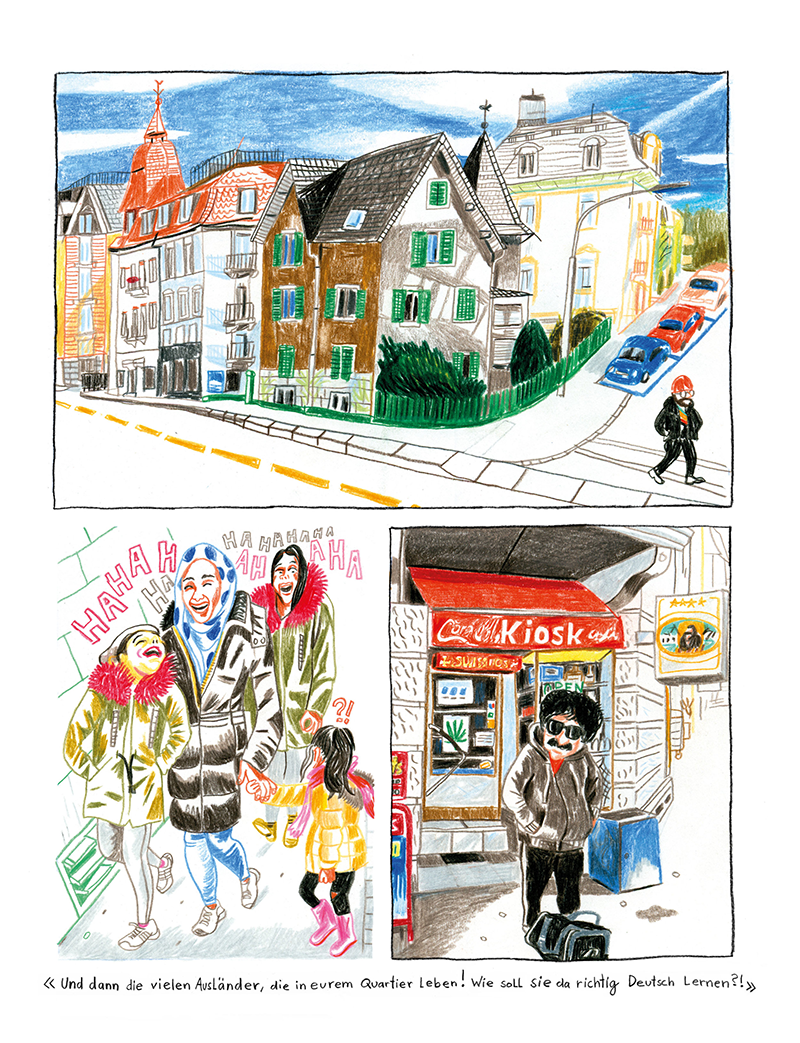 Were there certain events or stations that were formative for your career?
No particular experience, but there were always people there for me and who believed in me, even when I lost that belief myself. That comes across as a bit trite, but they were always a great help. First and foremost my parents, my class teacher in high school Carolin, the drawing teacher in the 10th grade – whose name I have unfortunately forgotten – and of course quite a few others, who are too numerous to list now.
Has your environment supported you in your career?
My parents and teachers always encouraged me. Sometimes it took a lot of patience, but it paid off in the end.
What are your current activities?
I am a freelance illustrator and artist. I am currently illustrating a children's book about a cuckoo returning from its holidays, which will be published by Atlantis Verlag in spring 2021. This autumn I will also undertake the "Kunst am Bau" project which I won last year in a competition with other invited artists and designers in the municipality of Vaduz. I will paint the underground parking garage and the staircase of the building with a colourful representation of people. I'm already excited to see how it turns out. Besides that, I'm still working on my own children's book and I'm always illustrating for magazines, newspapers and books.
Does what you are currently doing fulfil you?
It fulfils me very much and I feel very happy about it. But it has also taken a lot of time, patience and practice to get to this stage. What I always like best are self-initiated projects where I can be completely free, for example comics, children's books or art projects. But basically I have fun with many projects, even if they are commissioned works.
Do you think that you yourself have an influence on whether your activities are fulfilling?
I think so and certainly it does not fall from the sky. I work in a studio with many interesting and great people. I think your own environment is very important. Many of my friends and acquaintances are also active in the creative world, so a lot of things happen automatically. For example, it may be that someone is not engaged in a particular project job at a certain moment in time, so you tackle a project together – or sometimes you are recommended for a project by friends – that can never hurt. At the same time, it also works quite well when my wife and I work alone at home, at least that's what we noticed during the Corona time. She's also an illustrator, so working together in the same space is a good way to exchange ideas.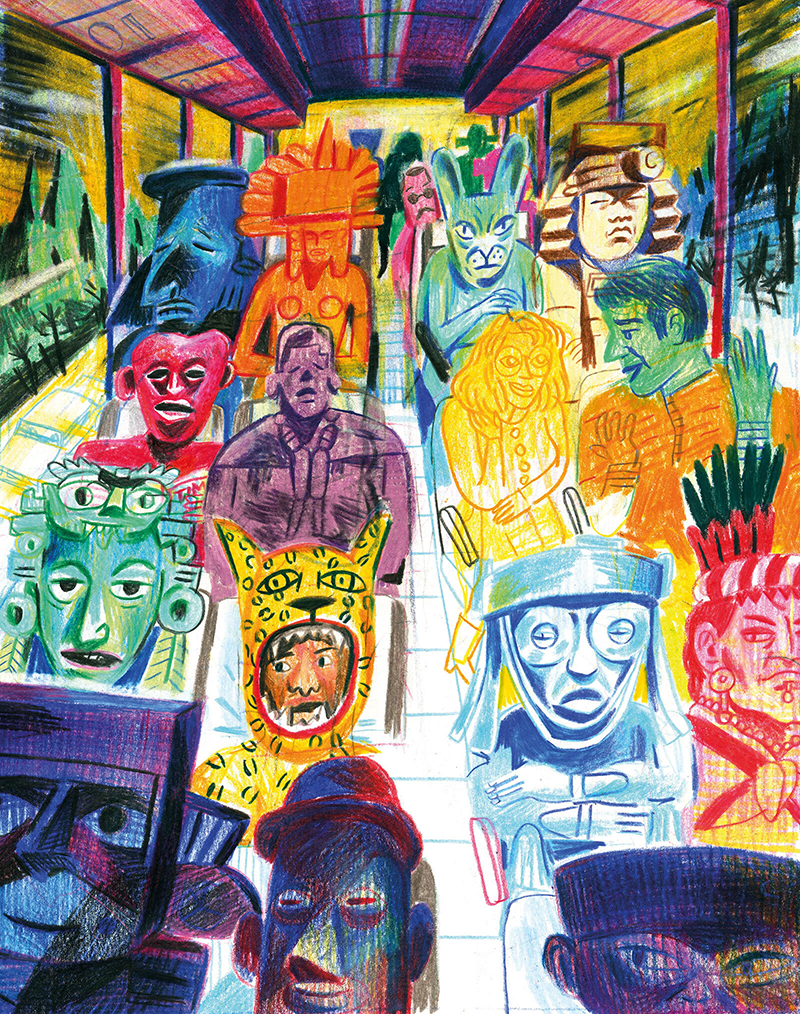 What or who inspires you in everyday life?
I think you have to absorb a lot, like a sponge. Experiences on the street or on trips, discovering things in films and music that move you, exciting comics and books, newspaper articles, etc. I also do a lot of sketches on the road. It can also be something completely unexpected which inspires me and I often think one should not be too fixed on something. I also have my own "picture archive", meaning a folder on my computer called "Inspiration", where I collect a lot of pictures that I like and that you might not see so often. My own family history also always inspires me. There are many anecdotes and stories that come up on their own. You don't really have to look that far. For a children's book I'm working on right now, for example, I used my own childhood memories. It's going to be a story about a boy who doesn't want to leave his friends for summer holidays to go to Calabria with his parents. But at the end of the summer, which was full of adventures, he is sad to leave Calabria and go home again.
What or who gives you strength and energy in everyday life?
A to-do list is quite helpful, always trying something new and being open to new things – and of course the coffee machine in our studio. One should also never give up too quickly. An example of this could be certain paintings that I don't finish because I have the feeling that they won't be good or that I've messed them up. Often it's worth giving them a second chance or just keeping going, as in the end something normally does come out of it.
There are "magic moments" when everything seems to fit. Moments that fulfil, inspire and give strength. Moments that confirm that the effort is worthwhile and that what you do is meaningful and valuable. Have you already experienced such moments in relation to your own activities?
I don't know if it's a magic moment, but I'm always very happy when my work triggers a reaction. For example, when an author of a text I've illustrated writes to me saying how much she likes the images to go with her text, how inspiring it is to her, or how great the colours are. That's something that I find very fulfilling. If something from my work comes across, some kind of feeling or something that perhaps makes you think, then I'm already very happy.
Do you actively do something for it, so that such "magic" moments can happen?
I try hard always to do my best and not to settle for the first idea right away. But every now and then the first idea can turn out to be the best one and it just took another "trip around around the block" to realise that.
Are there moments when you doubt what you are doing?
I actually often doubt myself because somehow I always want to get "better" at what I do. When I repeat something, it quickly feels too routine. I know then that I just have to draw a version again, for example, or just try something different. A different perspective, colour, or subject. It's a process of trial & error. Unfortunately, I'm not a genius, I just keep trying until something fits. This often results in things that I can reuse later if they don't fit exactly with the current project I am working on.
In retrospect, can you find something positive in difficult moments?
Maybe in retrospect, but it often takes some distance to learn something from it, and I think it often has to do with your own attitude. Even if a pitch for a job doesn't work out, you've learned something from it. Or if I draw something that I then can't use, I always find a use for it again or I've learned something for myself to help me going forward.
Is there anything you would do differently in retrospect?
No. I have often thought about what if I had done this or that, but in the end I think it's quite good to be where I am at the moment.
Do you want to contribute to society with your activities?
In the best case I do, for example when I can point to something with my work, make people think, or simply give someone pleasure. It may only be something small, but I think it's important.
Is the recognition of other people or the public important to you?
I am always particularly pleased when a client or author of a text contacts me and thanks me, or when the publisher or client showers me with compliments. I'm then all the more sceptical or even sad when no reactions come. I also like likes on Instagram on Facebook or the positive comments. But in the end, I have to like it myself. It's also interesting how different the reactions to something can be and how much is interpreted into my work. I'm often surprised myself what people see in it.
How well can you live from what you do professionally?
It took a while, but actually my wife and I can live quite well from what we make. We also have more or less everything we need and I even pay into all three pillars (pension fund) in investing for our future. The only thing missing is a car and a flat screen TV, then we are almost a "normal" family.
What are you most grateful for in life?
That I can live my life the way I want to. I occasionally forget that it is not so self-evident.
This interview is part of the project "Magic Moments" by Kunstverein Schichtwechsel, in which people are interviewed about their careers, activities and their magical as well as difficult moments.
Curated by Stefani Andersen and Laura Hilti, Kunstverein Schichtwechsel.
Supported by Kulturstiftung Liechtenstein and Stiftung Fürstl. Kommerzienrat Guido Feger.
>>> All interviews