Every seven years, designer Stefan Sagmeister closes his New York studio for a yearlong sabbatical to rejuvenate and refresh their creative outlook. He explains the often overlooked value of time off and shows the innovative projects inspired by his time in Bali.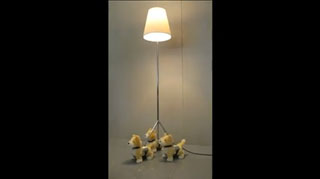 Stefan Sagmeister wurde 1962 in Bregenz, Österreich, geboren und studierte Grafik und Design an der Universität für angewandte Kunst Wien. Mit einem Fulbright-Stipendium studierte er weiter am Pratt Institute in New York. Im Alter von 29 zog er nach Hong Kong um bei der Werbeagentur Leo Burnett zu arbeiten.
1993 zog er wieder nach New York und gründete Sagmeister Inc., seine eigene Agentur. Seine Passion für die Musik hat er mit CD-Cover Designs und Packaging für zahlreiche namhafte Interpreten ausgelebt, darunter Lou Reed, die Rolling Stones, David Byrne, Aerosmith and Pat Metheny. 1997 und 1999 gestaltete er Poster für das AIGA (American Institute of Graphic Arts), die Titelseite für das Designmagazin Print (März/April 1996) sowie die New York-Ausgabe des japanischen Designmagazins Idea. Zu Peter Halls Veröffentlichung über ihn und sein Werk entwarf Sagmeister das Design.
Sagmeister wurde bereits sechsmal für den Grammy nominiert und gewann ihn zweimal. Er erhielt für das Albumdesign des Longplayers Once In A Lifetime der Talking Heads, sowie für Everything That Happens Will Happen Today je einen Grammy. Außerdem erhielt er einige internationalen Auszeichnungen. Im Juni 2008 erhielt Sagmeister den von Studierenden der Köln International School of Design vergebenen Designpreis "Klopfer". 2009 erhielt Sagmeister den mit 50.000 Euro dotierten Lucky Strike Designer Award.
Quelle Biographie: Wikipedia (Stand 31.08.2011)
Quelle Bilder: Film TED Talks
Links: www.sagmeister.com Things I Have Learned In My Life So Far (Publikation, 2008) Sagmeister, Made You Look (Publikation, 2001) Artikel in "Welt Online" (2009) Interview in "Art – Das Kunstmagazin" (2008)