Gian Battista Bolis was born in a small village in the province of Bergamo in Italy. He studied philosophy in Milan and Cagliari, then worked for 10 years as a secondary teacher of literature and history in Italy. For the past 28 years he has lived in Peru as a university lecturer in humanities and philosophy. In 1998, he co-founded the Catholic University "Sedes Sapientiae" (UCSS) in Lima, which provides university studies for thousands of young people. Improving education for disadvantaged children and young people in Peru is a major concern of his. He was also involved in the founding of the Nopoki branch of the UCSS in the Peruvian Amazon. Many of today's 700 students come from very remote and isolated villages in the Amazon region, where families have self-sustaining existences. Studying at Nopoki University is a unique opportunity for these young people. For example, they can train to become bilingual teachers and thus teach the children of their villages both in Spanish and in their indigenous mother tongue. Gian Battista Bolis is 61 years old. He loves swimming and football and enjoys hiking and walking in the mountains and the countryside. He belongs to a Catholic lay movement whose name is "Comunión y Liberación".
Where and how did you grow up?
I grew up in the province of Bergamo, living in different villages depending on where my father was working as an employee of a savings bank. My family was very united. Our values were strongly linked to the Catholic tradition of the province of Bergamo and very much influenced by Pope John XXIII (my hometown is just a few kilometres from his hometown). My mother's family is working class and my father came from a peasant background, and was the last of 16 children. I was raised to believe that all work has value and its dignity does not depend on the type of job or position one holds.
Could you describe your professional background?
I studied in state schools and completed secondary education in a classical high school in the city of Bergamo. I studied philosophy at the Catholic University "Sacro Cuore" in Milan and at the University "Degli Studi di Cagliari", where I graduated in 1983, with a thesis on the concept of tolerance with Pierre Bayle. Subsequently, I worked as a lecturer in Italian literature and history at a state industrial-technological institute in Sardinia and was vice-president of the cultural association "Icaro", dedicated to the continuing education of teachers. I have been working in Peru since 1992, teaching humanities and philosophy subjects at various universities. In the first years of my stay in Peru, I also worked with the Italian organization "AVSI" in educational and development projects. Since 1998, I have focused on the work of the UCSS. I was involved in the founding of this university, which today has 9,000 students and offers 21 degree programmes. I work there as a lecturer and have also taken on some institutional tasks.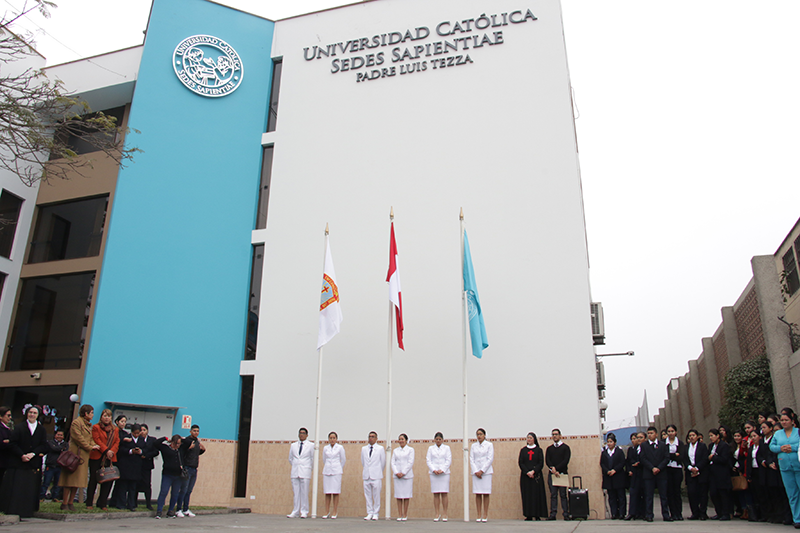 What are your current activities?
I currently teach anthropology, theology and philosophy at the UCSS. As Vice Rector, I am also responsible for general academic matters and am particularly involved with projects related to access to education for populations that are vulnerable from a socioeconomic or ethnic perspective.
This year, I led a project on academic assessment for secondary students from the most remote areas of the Peruvian Amazon region. I personally saw the enormous inequality of opportunity which exists between the education of young people from the coast or from large cities, and young people from rural areas. At the end of the study, we prepared a proposal to help young people increase their knowledge to get them to the stage where they could participate in the state scholarship competitions for universities.
I get confirmation of the value and benefit of my work repeatedly through the Nopoki University, which was initiated 13 years ago as a project of UCSS. It is located in the middle of the Peruvian jungle in Atalaya. Currently, 700 young people study accounting, business management, intercultural bilingual education (for elementary school) and agricultural sciences with a focus on forestry. The students are young people who would otherwise have no chance of leaving their village to pursue a university education. In many of these villages, there is neither drinking water nor electricity, and the families live off agriculture, with the lack of protein being a major problem. The mortality rate is very high and many children are malnourished. The young women who study at Nopoki University are usually the first in their villages to get a higher education, through which they will later find better work and receive a salary and thus be able to decide for themselves about their future. Many students receive scholarships, as it is not possible for them to pay tuition fees. There is also the possibility of living in halls of residence on campus.
Currently classes are very difficult due to the Corona pandemic. Some students have returned to their villages and are having trouble following classes from a distance. About 250 students have remained on campus and live there in complete isolation. One of the main problems has been to organize all the necessary work on the campus, which no one can enter because of the risk of infection. The work involved includes cooking for 250 people, replenishing the food supply, maintaining agriculture – mainly citrus fruits and vegetables and fish farms – and cleaning all of the premises. The other problem is to continue the studies virtually, to get used to the technological tools and to overcome the difficulties of poor Internet connection (when it rains, the Internet is sometimes unavailable for two or three days).
I am very grateful to be able to collaborate in the training of these young people, because it helps me to keep my horizons open not only culturally, but also humanistically and socially. With some of these young people and with the indigenous teachers who guide them in their training, relationships of respect and friendship have been established. That encourages me to seek help and encourage more cooperation so that the peoples of the Peruvian jungle can have better conditions for living and development. In this regard, I must say that in these years we have found many people and institutions that have got involved in this work, in many cases giving their time as volunteers and supporting Nopoki financially (Italian and Polish doctors, Spanish, English and American teachers, Spanish families, Italian and Liechtenstein families and various foundations and NGOs, etc.).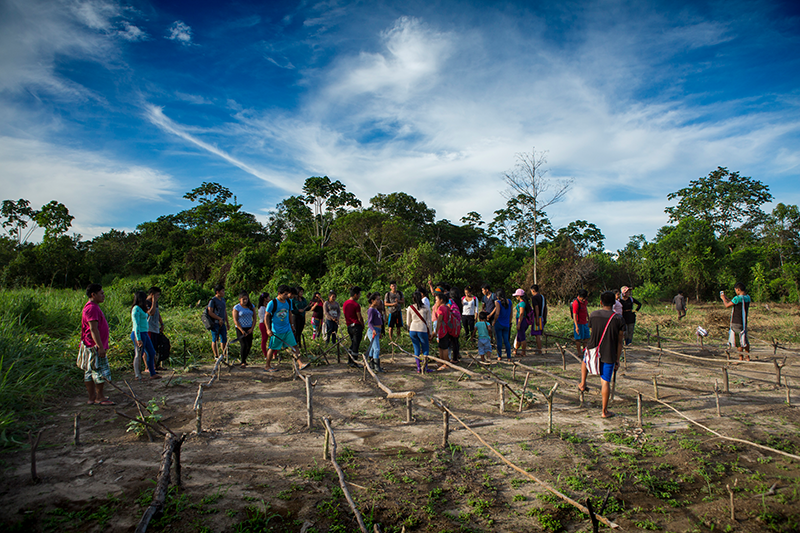 As I responded to this interview, I realized that this desire to make a contribution to people who had fewer opportunities in their childhood and youth than I had, is a bit of a thread in all my professional and personal activities. UCSS, where I have been involved from the beginning of my time in Peru, was founded in North Lima at a time when thousands of young people did not have access to university education. The social vocation of the university was important and was also recognized by the Peruvian state. I could cite many cases of young people from poor backgrounds who were able to receive professional training thanks to the UCSS, such as the case of two orphaned brothers who used to work as shoeshine boys in Lima's main square. Today, one of the brothers is an advisor to the Parliament as a lawyer and the other is an accountant and founder of a company that provides security services. Most of the Nopoki graduates have found jobs, some are already directors of bilingual schools, some work as experts in intercultural education in the Ministry of Education, and a good number are official translators for legal matters of indigenous peoples.
Does what you are currently doing fulfil you?
My activities fulfil me because on the one hand they are necessary for my livelihood and on the other hand they are a service to society. They also fulfil me because I continue to learn, get to know new situations, remain open to reality and do not lock myself up in my little world. I can contribute to the development of other people with the little that I know and can do, and furthermore, I can collaborate with invaluable people who are committed to social causes and projects. A final reason why my activities are fulfilling for me is because they take me out of my comfort zone and challenge me to improve as a person.
Do you think that you yourself have an influence on whether your activities are fulfilling?
In principle, I find my activities satisfactory. I derive this from the fact that I do not want to change them, but I do want to improve them. However, I also see that they are not necessarily satisfactory for all the people with whom I work and live. Therefore, I try to be open to changes, criticism and improvements that others suggest. The strategy, if you can call it that, is to keep reminding myself that I am not perfect and that there is nothing more important than being open to reality, observing myself and being ready for anything that can help me improve my work and myself as a person.
There are "magic moments" when everything seems to fit. Moments that fulfil, inspire and give strength. Moments that confirm that the effort is worthwhile and that what you do is meaningful and valuable. Have you already experienced such moments in relation to your own activities?
I confess that given the nature of my work, which is to be in contact with young people, there are many of these moments and they consist of very simple things. At the end of each lesson, when the students have actively participated, shown understanding and enthusiasm for the subject, and they have greeted me with obvious affection and appreciation, I have a deep sense of satisfaction in the feeling that I have been useful to another person and that what I have imparted has not been in vain. There are also seemingly more important moments, when a project comes to fruition, a publication is completed, a university degree is obtained, or one receives recognition from society. But it is strange that, in the end, the greatest satisfaction is when I realize that the other person is happy because I have done something or simply said something.
Do you actively do something for it, so that such "magic" moments can happen?
I don't want to be content with repeating what I have done in the past and what has worked before. It's not worth basking in the small successes of the past, even if they were achieved recently. It's about putting yourself back in the game in the face of what you have to overcome. The present always brings something new, a new problem, a new challenge.
Are there moments when you doubt what you are doing?
Honestly, I don't doubt what I do, also because it's the only thing I've learned to do with a certain seriousness and for which I've developed certain skills. However, I know that it can be done better and there are certainly many people who could do it better than I can. In that sense, I often ask myself if what I am doing is really what should be done and how it should best be done.
In retrospect, can you find something positive in difficult moments?
If these are moments in which you are permitted to ask yourself for whom you are doing something and why you are doing it, in the end they are moments that raise questions about the meaning of existence. In my experience, they are precious moments that help us to recognize the reasons why we live and do the things we do.
Is there anything you would do differently in retrospect?
Yes, there are many things I would do differently. First of all, I would try not to allow relationships with other people to break down. I find that in certain cases I have alienated a person with my attitude. I didn't know how to value them, I broke off a relationship or I didn't know how to understand them, and therefore I lost the possibility of a real friendship. Most importantly, my drive and over-confidence in myself at a certain point in my life caused me to lose the ability to value another's point of view and contribution. Therefore, at this stage of my life, I try to pay more attention to my counterpart.
Do you want to contribute to society with your activities?
Absolutely. First and foremost, I want to contribute something in the classroom, by passing on what I have learned from my knowledge and experience, so that others can take it in and decide if it is useful to them. Secondly, I am committed – with my limited decision-making and authority to direct policy – to ensuring that, as much as possible, decisions at UCSS are always made in alignment with service to the country and the community.
Is the recognition of other people or the public important to you?
For me, the recognition of those people I like and appreciate is important – in the sense that it helps me to understand whether what I live and do is also useful for others. Whereby I understand recognition more as being by means of comparison than as intrinsic success. The same applies to the public. I think it's important to know what people think about your actions. It serves to help you ask questions about yourself and to question yourself. However, if that recognition means applause and public praise, I must honestly say that I have never been interested in that. I was brought up as a small child not to pay attention to external aspects, and I must say that I feel very comfortable with this attitude.
How well can you live from what you do professionally?
My salary allows me to live comfortably in Peru. Of course, I do not live in wealth, but it is a salary that I consider appropriate for my job and I would not trade my work for a higher salary in another institution. I would only consider a change if it was an appropriate challenge and would provide a greater service to society.
Is there something that is particularly occupying you at the moment?
Currently, I am primarily committed to improving the academic quality at UCSS, especially in terms of teaching and the use of virtual tools (particularly in terms of updating the educational content of virtual classrooms and the use of all computer tools available to faculty and students).
Secondly, I am committed to the sustainability of Nopoki University and to the continuous improvement of the curricula for young people from the indigenous communities of the Peruvian Amazon. For example, we are developing bilingual textbooks in six different indigenous languages. There are 17 language families in the Peruvian Amazon that are not related to each other or to Spanish. Today, 65 different languages are still spoken in indigenous communities. For young indigenous people, Spanish is not their mother tongue, but for many decades it was the only recognized language in Peru, and today it is the only language that allows for intercultural communication. Bilingual educational materials are important to show appreciation for indigenous cultures and to make young people understand that speaking an indigenous language is not a deficit, but a valuable skill.
Currently, I am also involved in a research project in which we are developing correction software for four indigenous languages. It is part of a larger project to develop translation software. Several indigenous lecturers from Nopoki University are involved and I am responsible for pedagogical aspects.
Is there something you would like to (increasingly) spend time on in the future?
Yes, in three or four years I would like to give up the administrative and management responsibilities at UCSS and devote more time and energy to teaching and updating the content of my courses. For example, I would like to be able to spend more time at UCSS branches in the provinces, perhaps teaching a full semester at Nopoki University or the branch in Nueva Cajamarca, which is also in the jungle. That way I could share what I have learned with the students and faculty there. It's not about less commitment or work, but about leaving room for others involved in issues related to management and leadership, while allowing me to spend more time on educational work and research.
What are you most grateful for in life?
I think that everything I had and have is something given and gifted to me. I was born into a family that has always loved and cared for me. I also had the opportunity to study, work and meet many people from whom I learned and still learn a lot. In addition, I have received much affection and appreciation, some of it certainly undeserved.
This interview is part of the project "Magic Moments" by Kunstverein Schichtwechsel, in which people are interviewed about their careers, activities and their magical as well as difficult moments.
Curated by Stefani Andersen and Laura Hilti, Kunstverein Schichtwechsel.
Supported by Kulturstiftung Liechtenstein and Stiftung Fürstl. Kommerzienrat Guido Feger.
>>> All interviews