Venice Biennale 2011 | ILLUMInations (Cordierie/ Artiglierie)
Written by the artist and more than 30 miners from the city of Enna (Sicily, Italy), NUI SIMU (That's us) is a short movie filmed in High Definition. With the participation of 180 citizens of Enna and 20 non-professional crewmembers from the University of Catania, the project was a platform provided by the artist where the public, became actor, screenwriter, costume designer, set designer, camera operator… in an atmosphere of an ongoing laboratory, where people shared skills and acquired new knowledges. The role of the artist was like a mediator or facilitator, activating a process that connected fact and fiction, history and chronicle: actually the video is a mix of fiction and documentary, telling about the entire process, from the popular casting (with more than 450 citizens), to the scriptwriting session with 30 miners, from the sequences where bakers of the city are offering catering for the crew, to the make-up artist and hair dressers preparing actors everyday for the shooting.
Marinella Senatore was born in 1977 in Cava dei Tirreni, Italy. She lives and works in Berlin and Madrid. Senatore teaches at the University of Castilla-La Mancha and the University Complutense of Madrid. She attended the National Film School in Rome, the XI Advanced Course in Visual Art at Fondazione Ratti with the visiting professor Alfredo Jaar, the Fine Art School in Naples, and is gradueted in Art at University of Castilla-La Mancha where actually is attending a PHD focused on Public Art.Since 2006 is Associate Researcher for the IDECA Project, Audiovisual Department of UCLM (E).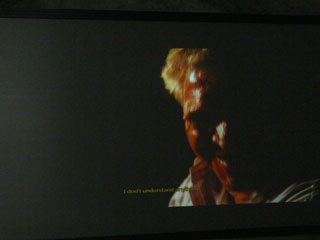 Quelle Texte: www.marinella-senatore.com
Links: Weitere Bilder