Cyprus Pavilion | Venice Biennale 2011 Curated by Yiannis Toumazis
Elizabeth Hoak-Doering's proposal consists of a contemporary re-working of kinetic art and a critical approach to history and memory. In her recent kinetic installations, objects are obliquely triggered by the visitors' presence, gradually producing drawings or traces on paper over a period of time. The work raises questions of agency and the scope of human memory, exposing new ways of reckoning of spatio-temporality. Doering critically examines the complex social and political nexus in Cyprus in a manner that is significantly universal in its reach.
Elizabeth Hoak-Doering (b.1966, Philadelphia, USA) holds a BA in Anthropology from Amherst College (USA), an MAed. and an MFA in Sculpture from Boston University. In 1996 she received a Fulbright Scholarship to study sculpture and archaeology in Cyprus and in 2000 she was a resident artist at the Monagri Foundation in Limassol. Her trans-disciplinary projects are realized in multiple formats: drawing, multimedia, sonic and kinetic installation and also published academic papers. While her work focuses on Cyprus, it also draws from her experience among the Navajo (2008), in Armenia (2001 and 2006), and with the Samburu of Kenya (1986-87).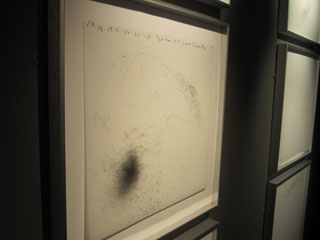 Links: Official Website Cyprus Pavilion Further Pictures
Quelle Texte: www.cyprusinvenice.org