Die multimedialen Arbeiten des Künstlerpaars Gil & Moti negieren Grenzen zwischen Leben, bildender Kunst, Performance und sozialen Interventionen. Als jüdische Israelis und homosexuelle Immigranten, die in Rotterdam leben, tragen sie zu Diskursen über Anderssein und Regelwerke für soziale Existenz bei.
Gil, geb. 1968 in Rishon Lezion/Israel und Moti, geb. 1971 in Ramat Gan/Israel Leben und arbeiten seit 1994 zusammen, seit 1998 in Rotterdam.
AVAILABLE FOR YOU 2008 – 20 11 | Videos of variable durations
Für Available for You stellten sich Gil & Moti in den Dienst arabischer ImmigrantInnen in Rotterdam und Kopenhagen und thematisierten dadurch die konfliktreiche Beziehung zwischen Israelis und arabischen BürgerInnen in Israel. Tagebuchartige Videos dokumentieren diese Begegnungen.
We made a serious attempt to perform a gesture of generosity for European immigrants from Arab countries. By offering to give a helping hand or lending a shoulder to carry a burden we opened up new ways of communication between hostile communities. The series of short diary like videos presents these encounters.
DREAMERS AND STORYTELLERS 2011 | Video 9 min.mixed media installation
Israel steht auch im Mittelpunkt der Installation Dreamers and Storytellers (2011). In kritisch analytischen Gemälden, Radierungen und als Texte formulierten Träumen behandeln Gil & Moti die sozialpolitischen Probleme ihres Heimatlands.
In this installation we knowingly observe Israeli reality with a critically shrewd eye: a multifarious society that nowadays typifies both the world in general and Israel in particular. We look at social-political problems and direct the gaze speciflcally towards the town of jaffa on the fringe of Tel Aviv, Um EI Fahem on the fringe of Israel, and at Palestinian and migrant workers who are on the fringes of society. The intuitiveness that governs the paintings, etchings and dreams, envelops a range of emotional and sensory response.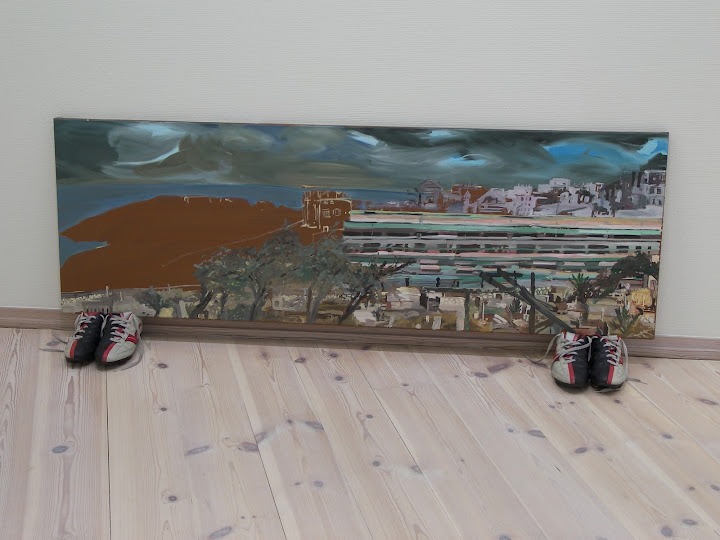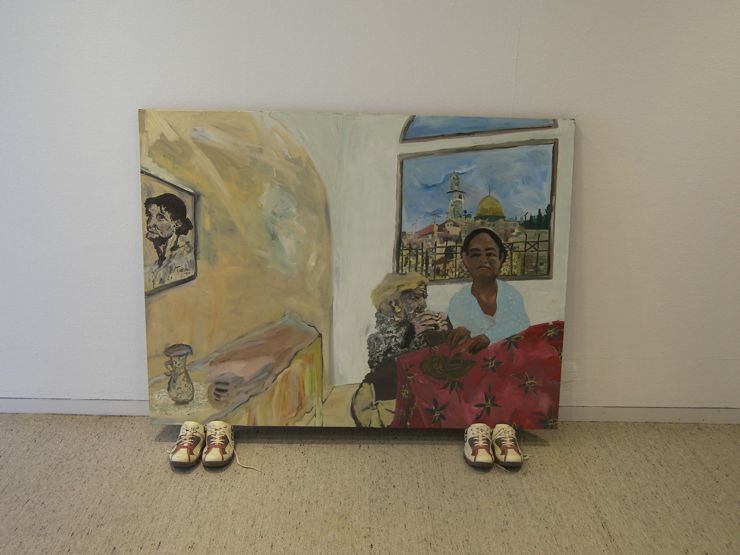 DATING Gil & MOTI 2003 – 2008 | Selection of videos in a 15 min loop
Dating Gil & Moti zeigt das Ergebnis der Suche nach Freundschaften mit arabischen schwulen Männern, die aufgrund der Unmöglichkeit, ihre Sexualität in ihren Heimatländern offen zu ausleben, in der Diaspora leben.
With the aim of making friends with Arabs, we went on a long term search for pen-pals on gay dating sites on the internet, offering to make a watercolor portrait of each one. Combining the portraits with written responses we created an installation that showed the correspondence with more than 100 chat-mates over six years.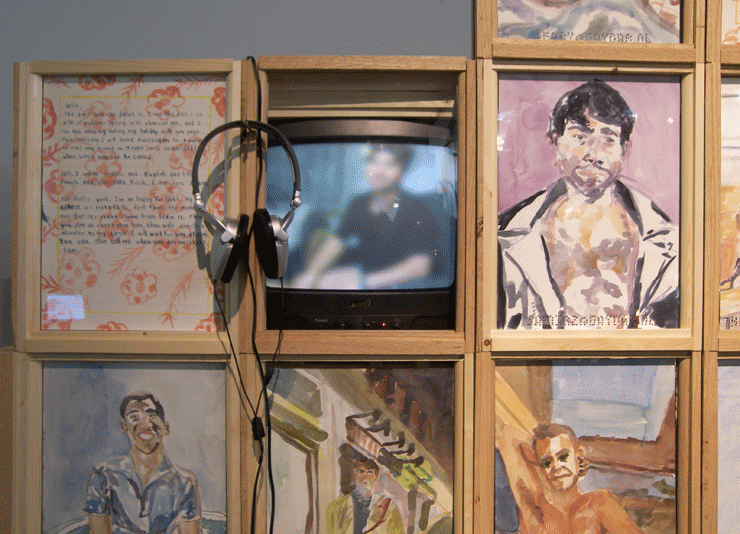 LAYLAH THE CREATURE BEYOND DREAMS 2004 | 3 channel video 45 min. mixed media installation
Neben über 100 Freundschaften resultierte aus dem Internetprojekt Dating Gil & Moti auch eine Liebesbeziehung zu einem Libanesen. In der Video- und Multimediaarbeit Laylah the Creature Beyond Dreams thematisieren die Künstler diese ungewöhnliche Liebe.
Stretching the borders between art and live we let ourselves literally fall in love with the enemy whilst obsessively documenting the one year relationship we had with Oliver from Lebanon. ln a video and mixed media installation we unfold the love story, from the first day we met on the internet to heartbreak.
THE GIL & MOTI WEDDING PROJECT 2oo1 | Video 30 min, mixed media installation
In The Gil & Moti Wedding Project machte das Künstlerpaar seine eigene Hochzeit zu einem Kunstprojekt. Gil & Moti waren unter den ersten Homosexuellen, die das damals neue niederländische Eherecht genutzt und sich in Rotterdam trauen haben lassen. Das Ehebett ihrer Flitterwochen, die sie im Rotterdamer Rathaus verbracht haben, ist ebenso zu sehen, wie die Videodokumentation der Aktion. Abgerundet wird die Ausstellung, wie an allen Standorten, durch ein lokales Projekt.
In June 2001 we performed publicly, in a highly theatrical and non-conventional gesture, our wedding. This project was carefully staged and it was part of the cultural program of the city of Rotterdam, and open to all city residents. The civil ceremony was conducted by the mayor himself, Mr. Ivo Opstelten, and followed by the public performance of our honeymoon, ten days in the foyer of Rotterdam city hall. with a huge bed surrounded by art works we had specially made for the event.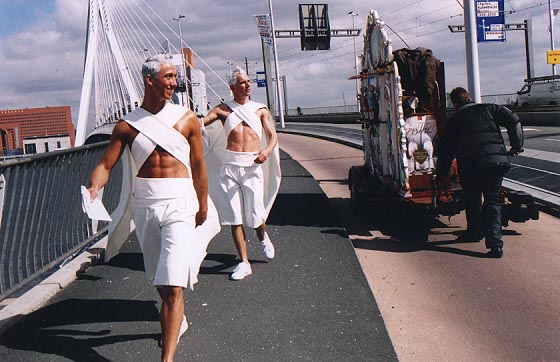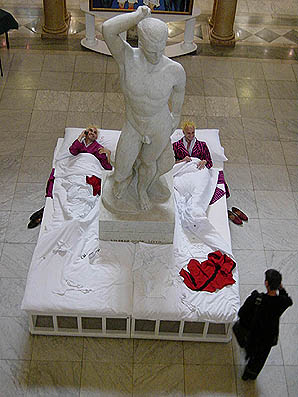 COLORED SWANS 2011
Für Colored Swans, das während des Aufenthalts der Künstler in Linz entsteht, arbeiten Gil & Moti mit Linzer Jugendlichen der Emo-, Visual-Kei- und Gothic-Szenen zusammen. Entstehungsprozess und Ergebnisse werden kontinuierlich als Teil der Schau im LENTOS präsentiert.
GIL & MOTI | TOTALLY DEVOTED TO YOU 25. Mai bis 12. August 2012 im Lentos Kunstmuseum, Linz
Das LENTOS ist der letzte von fünf Schauplätzen der  internationalen Ausstellungstour Totally Devoted To You. Nach Kunsthallen Nikolaj/Kopenhagen, Stavanger Kunstmuseum, Kunstmuseum Bochum und Tensta Konsthall/Stockholm gibt das LENTOS einen Überblick über das Schaffen der beiden Künstler.
Anlässlich der Ausstellungen ist der Katalog GIL & MOTI. TOTALLY DEVOTED TO YOU erschienen. Hrsg. von William Easton, Gil & Moti, Hans Günter Golinski, Elisabeth Delin Hansen, Peter S. Meyer und Stella Rollig. Mit Texten von den HerausgeberInnen und Catrin Lundqvist. 160 Seiten, € 25,- Hatje Cantz Verlag, Ostfildern, 2011.
Vorschau:
Quelle Texte: Kunstmuseum Lentos
Quelle Zitate und Bilder: Website Gil & Moti