During Rotterdam's World of Witte de With international arts festival, 9-11 September, Showroom MAMA and local artist Wes Westenburger present Wes & MAMA's Quartet of Queer Experiences. A Circus full of strange experiences! Take some Sheen-drug and sip a tiger blood in the Sheen lab. Revel in the cabinet of curiosities and its collection of eminent relics. The burlesque bearded lady Prinszessin Hans provides musical entertainment and strongman Duncan Allen makes bizarre record attempts in an effort to confirm his masculinity.
Wes & MAMA's Quartet of Queer Experiences is a collection of burlesque acts in a contemporary style, and touches on topics such as fame, celebrities and machismo. The circus seems to be an appropriate place to show the crazy world of the celebrity. It's a world of glamour and bravado, which is the freak show it appears to be. The ideal image of the adored celebrity is nothing more than a clown's act.
Wes Westenburger
Wes Westenburger (1981) began his career performing with the FCKN BSTRDS and in amateur freak-shows at the legendary Galerie Slaphanger and the Hondenkoekjesfabriek. After talking his way into an apprenticeship with extreme circus performer John Kamikaze, Wes trained in Marseille and Vienna learning the tricks of the trade. At Rotterdam's Willem de Kooning Academy he immersed himself in drawing and graphics, but his focus soon returned to performance after an invitation to work with Swiss/Liechtenstein artists collective Salon Liz, and subsequent jobs at Henk Schiffmachers's House of Wonders and Erwin Olaf's Fuque les Strand Balles. Shortly after graduating Wes broke his neck and ended up in a wheelchair. Consequently, he began collaborating with MAMA, especially as a curator.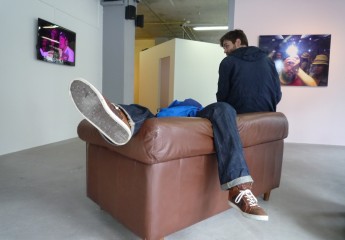 Text: www.showroommama.nl