Untitled (2010)
«Unto This Last» Raven Row, London 20 May to 25 July 2010
«Unto This Last» takes its cue from John Ruskin's eponymous book to consider the complicated relationships between contemporary art and craft.
Under the term 'skill' I mean to include the united force of experience, intellect, and passion, in their operation on manual labour: and under the term 'passion' to include the entire range and agency of the moral feelings; from the simple patience and gentleness of mind […] up to the qualities of character which renders science possible […] and to the incommunicable emotion and imagination which are the first and mightiest sources of all value in art. – John Ruskin, Unto This Last, 1860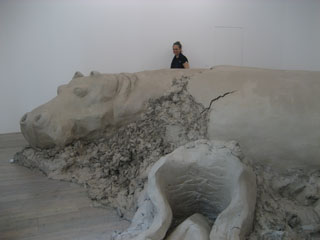 Artists Daniel Dewar (born 1976 in England) and Grégory Gicquel (born 1975 in France) have collaborated since studying together at Art College in Rennes in 1998. They live and work in Paris.
Links: Galerie Loevenbruck Raven Row
Quelle Text: Raven Row
Quelle Portrait: dd-gg.blogspot.com
Quelle Biographie: www.blogger.com www.loevenbruck.com
Alle anderen Bilder: Laura Hilti