Carol Wyss attended the art foundation course in St.Gallen, Switzerland and afterwards completed an apprenticeship as a graphic designer at Hilti AG in Schaan, Liechtenstein. She then studied art at the Slade School of Fine Art, UCL in London and has been working as a visual artist ever since. Today she lives with her husband and two teenage children in London, right next to a Victorian cemetery. Her bread and butter jobs are art teacher and freelance graphic designer. The remaining time she develops her own work as a visual artist in printmaking and installation. Two years ago she was accepted into the prestigious "London Group" Artist Collective and shows her work regularly in national and international group and solo exhibitions. Carol enjoys interacting with friends, actively experiencing London's diverse art and cultural scene, getting out into nature, exercise, as well as books and films. Carol Wyss is from Mauren in Liechtenstein.
Where and how did you grow up?
I grew up in Mauren with my parents and two siblings in an apartment with a large garden, close to the forest. I loved to be outside, especially in the forest, where I spent my time whenever possible, climbing trees, building huts and exploring every corner for hours. When the weather was not cooperating, I drew, read and dreamed a lot.
Could you describe your professional background?
After studying art in London, I moved between England and Liechtenstein for several years. I worked at the Kunstmuseum Liechtenstein as an art technician, taught art in London and developed my own art practice. When the children came, London became my base. For a few years I was able to work only a little on my art. A breakthrough came when I won the John Ruskin Prize with the series INTO THE WILD. Ever since I show my work regularly in national and international exhibitions.
Were there certain events or stations that were formative for your career?
I can remember well how, during a sculpture workshop at my art foundation course in St. Gallen, I realized in the middle of carving stone that art could be my way of life – it was a huge relief. An important stage after that was the discovery and study of different printmaking techniques during my art education in London; I had a very inspiring professor who was an artist himself – completely unexpected new ways of artistic expression opened up to me, everything was possible.
Were there certain people who were formative for your career?
There were, and still are, many people who shaped me and thus my career in the most diverse ways; first and foremost my patient parents, who always encouraged me.
Has your environment supported you in your career?
Yes – actually, whenever they realised that I was serious.
What are your current activities?
Whenever possible I develop my art. I conceive the works in my studio at the top of our house. To develop and realize the print pieces I use an open access print workshop in South East London. I am currently working on two large installations for an upcoming solo exhibition at Brantwood Museum in Cumbria.
Does what you are currently doing fulfil you?
I love being able to concentrate more on my art again. I find it endlessly exciting to have this opportunity to get to the bottom of things and situations that interest me, to try to understand them, to question them, to reinterpret them and to express that in my art.
Do you think that you yourself have an influence on whether your activities are fulfilling?
In my artistic activity, I have the freedom to define my own rules, to constantly explore the limits. It is important to me to be as open as possible, to look more closely, to take time for reflection; often it is quiet, inconspicuous moments – a world in a speck of dust.
What or who inspires you in everyday life?
I'm interested in how people experience their environment, understand it – whether it's how my children experience the world or how the most diverse cultures in a city like London live and interact with each other. In this context, I am always inspired by the human skeleton; this basic physical structure that gives us humans a form, the bones and the stories they hold.
What or who gives you strength and energy in everyday life?
My family and friends, being in nature, cultural events, exercise, good books, sunlight, music, the dawn and dusk bird chorus – silence.
There are "magic moments" when everything seems to fit. Moments that fulfil, inspire and give strength. Moments that confirm that the effort is worthwhile and that what you do is meaningful and valuable. Have you already experienced such moments in relation to your own activities?
These moments appear quite unexpectedly – detached from time and space; they can be in the middle of the etching process, when I remove black ink from the steel plate very deliberately and depth develops in the image during printing and content becomes tangible; when it is unexpectedly just right – or when quietly observing, sometimes while drawing or photographing, when the light is almost palpable and all the connections make sense. It can be quite magical as well when I see someone pause while looking at my art, when they look closer and wonder.
Do you actively do something for it, so that such "magic" moments can happen?
Best to do nothing, be in the moment with whatever you're doing – the magic of such moments is that you can't control them.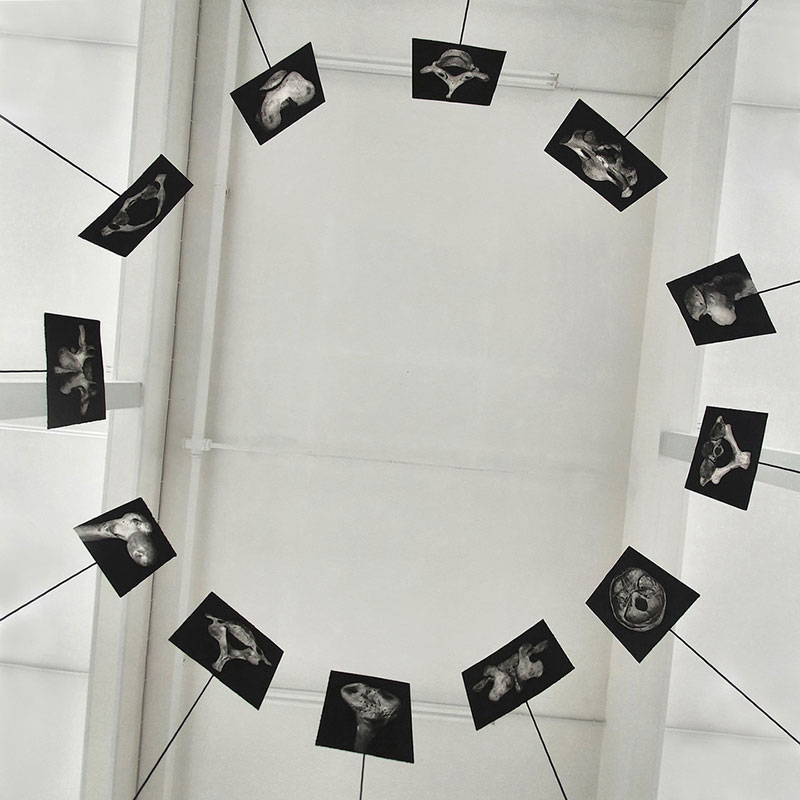 Are there moments when you doubt what you are doing?
When dealing with the art world circus and you realize once more that in the cultural industry, money and networking are often more important than the actual art. I then always immerse myself in my work.
In retrospect, can you find something positive in difficult moments?
They remind me of what is important to me about art; the honest exploration and realization of an idea, continuing to search and question – not for a specific audience or for financial gains.
Is there anything you would do differently in retrospect?
No, things usually turn out differently than you think anyway.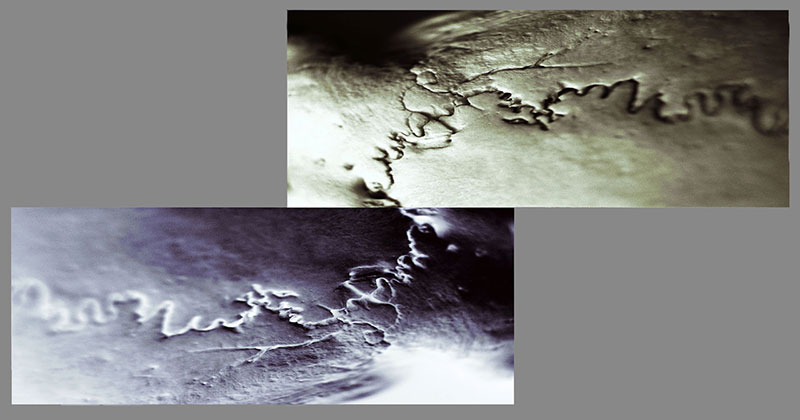 Do you want to contribute to society with your activities?
Ideally, I create a space for reflection with my art installations – not for the viewer to make assumptions about what I think, but what they think for themselves
Is the recognition of other people or the public important to you?
It depends by whom; of course I'm happy when my art has a positive effect, when it stimulates and tempts people to think and to question.
How well can you live from what you do professionally?
I can't make a living from art; with my additional money jobs I could barely survive on my own, but never finance our family – luckily my husband is not an artist.
Is there something that is particularly occupying you at the moment?
The physical experience, in contrast to the digital, is something I've been dealing with for a long time. You can feel in yourself right now how much we rely on meeting people in the physical space to have meaningful exchanges and stay mentally healthy. With two teenagers who've been home schooling for more than 10 months, you can be confronted with that sometimes pretty directly.
Is there something you would like to (increasingly) spend time on in the future?
The still predominantly hierarchical controlling thinking in our dealings with nature concerns me very much. It seems that the virus is holding up a mirror to all of us as individuals and as a society, turning the hierarchy on its head, so to speak. I feel challenged to scrutinize my own actions again and again.
What are you most grateful for in life?
Family, friends, health and that I can make art!
Interview
Laura Hilti, February 2021

Links
www.carolwyss.net

Recommendations

Books
"The God of Small Things" by Arundhati Roy
"Unterland" by Robert McFarlane
"Americana" by Chimamanda Ngozi Adichie
Films
"Tony Erdmann" by Maren Ade
"Stalker" by Andrei Tarkowski
"Social Dilemma" by Jeff Orlowski
"Parasite" by Bong Joon Ho

Credits
Portrait photo, In the studio: Lyra Napier
All that remains, Adams Rippe: Patricia Keckeis
All other photos: Carol Wyss
This interview is part of the project "Magic Moments" by Kunstverein Schichtwechsel, in which people are interviewed about their careers, activities and their magical as well as difficult moments.
Curated by Stefani Andersen and Laura Hilti, Kunstverein Schichtwechsel.
Supported by Kulturstiftung Liechtenstein and Stiftung Fürstl. Kommerzienrat Guido Feger.
>>> All interviews